UC San Diego $10 Triton Tickets
Students are eligible to purchase $10 tickets to select La Jolla Playhouse productions
with the promo code

TRITON

.
HOW IT WORKS
Ticket holder must be present with valid UC San Diego ID to retrieve tickets
Good for two tickets per ID
Area 2 seating only
Make sure TRITON appears in the upper right hand corner where it says "Promo Code"
Tickets must be picked up at Will Call one hour before your performance begins
An account is needed to purchase tickets
Many shows SELL OUT.... Buy early!
Limit 2 tickets per ID/per production (If you purchase more than two tickets, you will be contacted by Patron Services
and given a refund)
Any questions? Email This e-mail address is being protected from spambots. You need JavaScript enabled to view it
UPCOMING SHOWS
A Without Walls (WOW) Festival Production
Super Night Shot
October 19 - 21, 2017
Location: San Diego Central Library (downtown)
By Gob Squad Arts Collective
Super Night Shot is a magical journey through the night-time streets of San Diego. The city streets are turned into a film set where cigarette butts, graffiti and cars serve as props and facades and the local people become potential lovers, liberators or friends. Full of unexpected surprises, the public become co-stars in a movie that celebrates unplanned meetings with strangers, serendipity and chance. Anything can happen, and usually does.
A Without Walls (WOW) Festival Production
Shasta Geaux Pop
October 20 - 22, 2017
Location: Bread & Salt (downtown)
By Ayesha Jordan and Charlotte Brathwaite
Audiences are invited to celebrate the outrageously hilarious and completely uncensored SHASTA GEAUX POP as she brings her signature brand of basement get-down party to San Diego. Crazy, irreverent and uplifting, Shasta keeps it real with her gospel of laughter, her free flowing emcee style to get this immersive underground Hip-Hop party jumping.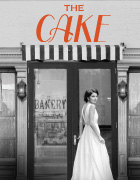 New Play
The Cake
February 6 – March 4, 2018
Sheila and Hughes Potiker Theatre
By Bekah Brunstetter
Directed by Casey Stangl
Jen lives in New York but has always dreamed of getting married in her small North Carolina hometown, so she heads down south with her partner to ask Della, her late mother's best friend, to do the honors of making the wedding cake at her bakery. Della's cakes are legendary ­ even earning her a spot as a contestant on the "Great American Baking Show." She is overjoyed at Jen's request ­ until she realizes there's not just one bride, but two, forcing her to re-examine some of her deeply-held beliefs, as well as her own marriage. Faith, family and frosting collide in this touching and timely new play.
TRITON CASH
To use TRITON CASH, call La Jolla Playhouse Patron Services at (858) 550-1010 or visit the Patron Services office.
FIND US ON CAMPUS
OTHER UCSD PROGRAMS